We Can Thank the Irish a Lot For Crochet
I want to give credit to Donna Kooler's Encyclopedia of Crochet for an amazingly thorough and positive article on the very interesting history of crochet which is often times told about in a negative light. Yet, crochet has touched the realms of industri5
al industries as well as royalties alike and have sprung up business women and men. Since it is the second week of March it is the perfect time to celebrate Crochet Week by increasing our passion and knowledge of the craft.
The Spelling – In an early book of needlework patterns, A Winter Gifts for Ladies, Instructions in Knitting, Netting, and Crotchet Work, we find some clues to the novelty of crochet. First the spelling is wobbly, This indicates that the activity of crocheting wasn't old enough to have a fixed name in English. That means it was rather new in 1847. However, you do have an early written reference to "sheperd's knitting" that dates around 1812 that involves using wool and an old comb, but this reminds me of a Youtube video I saw where a comb was used to do loom type knitting.
Hook Choices and Methods – In the instructions for a long purse, the lady is instructed to turn her crocheting at the end of a row, so we learn that crochet was done back and forth, as well in rounds. The gentleman's cap calls for a coarse ivory crochet hook. The open work purse calls for a steel one, so there was already some choice of hook sizes.
Hand carved crochet hooks. Ivory and steel hooks were available as well.
Crochet Fashion Wars – There were times in history when overusing fibers or fabrics were considered wasteful and only the basic human need was to be met. How awesome is it that around the same time of the invention of machine-made thread crochet nearly blossomed overnight because the cost of materials was no longer a limiting factor. When the spinning wheel was invented in the late 15th century dropping the cost of thread it allowed the merchant class to afford the purchase of lace just like the nobles who became highly upset about the merchant class wearing lace just like them, even silver and gold. So a law was put in place prohibiting the "commoners" from wearing the fashion of nobles. Oh those nobles. Well, the laws were withdrawn when it became obvious they were being ignored. Go Merchants!
Stealing is Nothing New – Lace designs were stolen verbatim, frequently and shamelessly, copyrights notwithstanding. Sometimes the pirates waited a much as half a year before publishing the patterns, but often they published within weeks, sometimes even before the lawful licensee had time to do so. It looks to me like crochet lace caused such a frenzy and was in such high demand that publication could not wait to get their hands on them. After all, it would increase their exposure and bottom line.
Ireland Saves Us All – No one wants to die due to starvation right? Well, when the potatoes decided they wanted to hang out somewhere else for a couple of years the ladies of Ireland became proactive and established crochet schools and convents in the north and south and taught crochet to anyone who wanted to learn. The organization or their founders also arranged the sale of finished pieces and the distribution of the proceeds.This should be quite encouraging to today's designers who sell online and at marketplaces Lacemakers earned enough to live on and some earned enough money to survive the famine and some enough to migrate.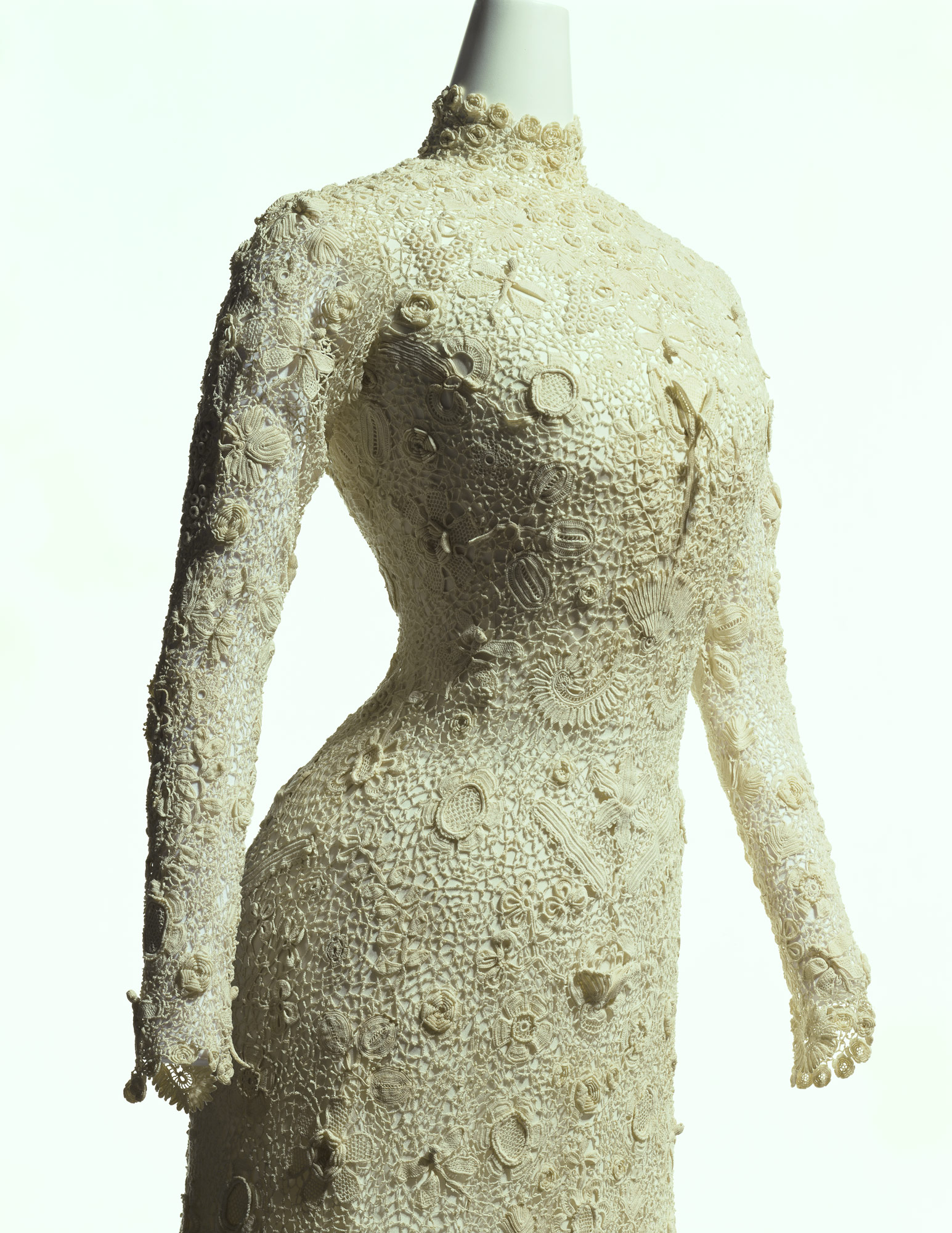 Irish Crochet Lace 1850's
Crochet and Celebrities – What designer today would not want to get their piece to Kim Kardashian or some other high profile celebrity? When Queen Victoria accepted a gift of the laces and wore them, Irish crochet was instantly fashionable. Ladies who had no objections to being both fashionable and charitable outfitted themselves in Irish crochet from head to toe.
Queen Victoria outfitted in embroidery and lacework.
Crochet in America – The depression of the 1930's caused smaller items to be popular. It's the idea of conserving and not being wasteful during a time of hardship. Innovation of crochet began in the 60's when teens began to crochet away from the tradition of what they saw their mothers and grandmothers do. Anything became crochet, from baskets, cowboy hats, and unstructured clothing, to briefcases and Grecian urns. It is honorable to know that today's high end designers are constantly keeping their eyes on crochet for ideas and experimentation with the art form as there are still so many possibilities of crochet that have not been invented yet.
Crochet on the Runway 2013